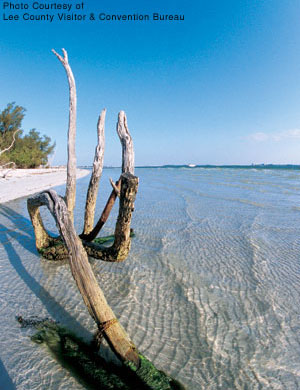 For overnight camping reservations at the park, be sure to contact: Reserve America at 1-800-326-3521 or visit the Web site. Once you have your campsite reservation please call Tropic Star at 239-283-0015 to reserve your water transportation to the park. We offer morning and afternoon departures from Pineland Marina, Bokeelia, Pine Island.
DAILY DEPARTURE
Check-in 1:30pm, departs 2:00pm
RETURN TIMES
Leaves Cayo Costa at 1:30pm
July 1 - Nov 30 Leaves Cayo Costa 3:30pm


All times are subject to change.
Alternative schedules maybe available, please contact 239-283-0015 for more information. ADULT $ 65.00
CHILD $ 45.00 (6 yrs & Under)
--- Directions to Boats ---

Camper gear is limited to 50lbs per person, ANY additional gear and oversized items will have additional charges. Transport of any gear for non passengers is an ADDITIONAL charge.

Kayaks - $ 30.00 transport fee
Bicycles - $ 20.00 transport fee
Carts/Beach Wagons $25.00 transport fee each
Dogs - $ 35.00 transport fee
(Our Insurance policy requires all pets be caged or leashed AND muzzled during the trip.) Also see Florida State Park Pet Policy
Excessive Gear - $15.00 transport fee
Baggage/Gear is limited to 50lbs per person. Additional baggage/gear and over sized items will incur additional charges.

Departure time is subject to change especially during the summer months. It could be as early as the day before departure before we are able to let you know.

You need a credit or debit card to confirm reservations (anything except American Express). The credit card will be charged 24 hours prior to departure. You have until then to cancel. If you cancel any time before there is a $5 cancellation fee - after that the full amount will be charged.

Pineland Marina does charge $10 per calendar day for parking cash only!. You will take care of that when you get there- they will be expecting you and will give you a pass to place in your windsheild.

The boat ride can take anywhere from 30 minutes to an hour depending on which boat is running that day.

The cell phone reception on the island is limited but there are rangers who stay on the island at all times. There is a phone charging station available at the ranger's station.

There is a small store on the island that sells ice, firewood, charcoal, lighter fluid, bug spray, sunscreen and some snack items. It also rents bikes, kayaks and paddle boards.

We dock on the Bay Side and the campsites are about a mile across on the Gulf Side of the island. There is a tram that will meet you at the boat dock that will take you to your campsite. Check with the rangers for times The tram will also bring you back to the boat dock at the end of your trip.

You will get a return ticket that will have your return date/time on it. The captain and/or crew will also go over return procedures on the boat with you on the way over. If there is an issue with times/dates please call 239-283-0015 as the captain and crew just drive the boat!

Check out time from the campsites is 11AM. We would suggest that you check out early at 10AM take your gear to the waiting area and for $15.00 catch the 10:30AM boat to Cabbage Key for lunch. You will then return to Cayo Costa at 1PM to load your gear and return to the marina at the regular time. You must call the office at 239-283-0015 and check availability and make reservations as this side excursion is not always available.